UHD SPAIN REVIEWS CONTENT DISTRIBUTION NETWORKS
02/06/2022
---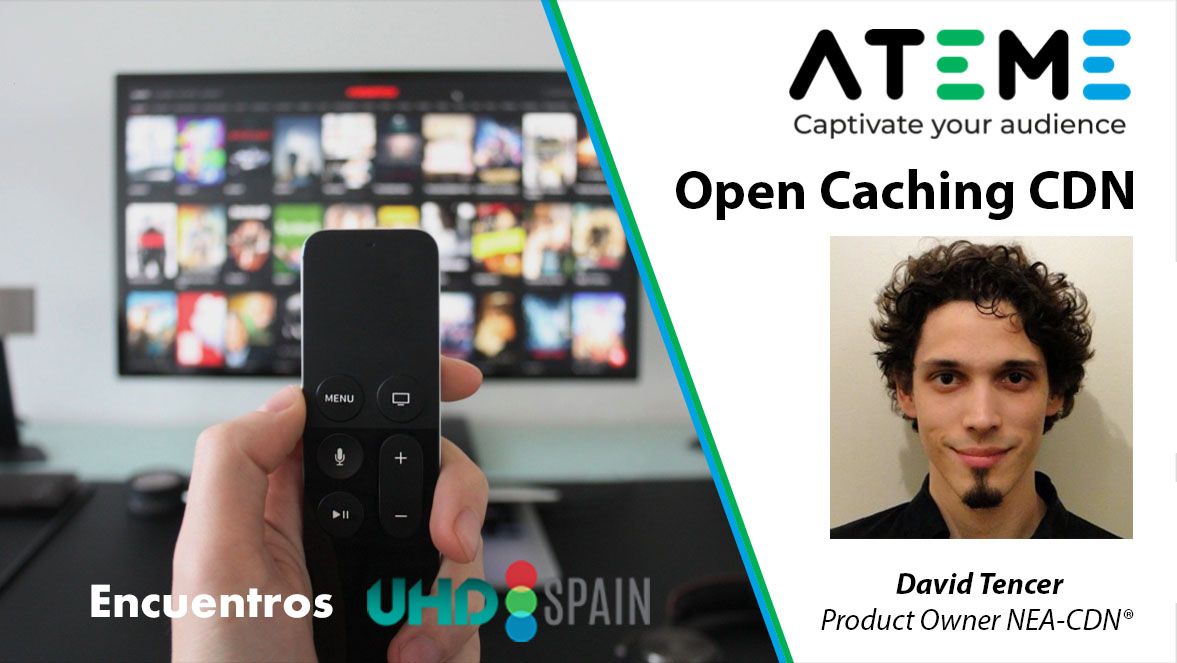 In its seventh virtual meeting, restricted to members of the association, UHD Spain held a session on UHD Streaming and CDNs.
The conference, in virtual format, was led by David Tencer, Product Owner NEA-CDN® of Ateme, and was restricted to members of the association.

In this seventh session of the "UHD Spain Meetings," the two main solutions used by content distribution networks (public and private CDNs) were detailed and compared; then a new solution with the so-called Open Caching of Streaming Video Alliance, which enables the interconnection of CDNs, was presented.
UHD Spain hosted on May 5 a new virtual meeting restricted to members of the association and led by David Tencer, Product Owner NEA-CDN of Ateme, which took the form of a Masterclass on UHD Streaming and the types of possible CDN solutions. 
"The purpose of this presentation is to show you the trajectory of the content delivery network and the current solutions to get this content to users around the world. And finally, we conclude this webinar with interesting information about Open Caching," said Ateme's CDN expert.
More than 40 people gathered virtually at the event, which was restricted to partners and taught in English under the title "Open Caching CDN. Solving content owner's CDN problems."
Tencer began the meeting with a brief overview of what the Internet is and how it works in order to truly understand "the challenges we face in distributing content over the Internet," he said.  Terms such as "Internet as a network of autonomous systems" (AS), where the AS, IP address spaces, service providers, the hierarchical system (Tier1, Tier2, Tier3…) and its two types of links, either transit or through the so-called Peering, were some of the concepts explained during this first part.
The challenge of content owners
Content owners have no network: they just produce the content and hold the rights. But if they want to offer a service to monetize their content, be able to reach a new market fairly quickly and offer a high quality experience, they have to face new challenges.
"The big challenge facing content owners is how to get their content Direct to Consumers (D2C) located all over the world while still offering a high quality service," Tencer explained when introducing the three types of possible solutions: public CDNs, private CDNs and the interconnection of CDNs.
The first solution proposed during the meeting is public CDNs, "whose most notable advantages are the fact that they offer worldwide coverage, are an easy solution to start with and give access to many advanced functions." On the other hand, they are expensive when traffic grows, offer limited control over quality of experience, and content owners lose control of the end-users' data.
"When opting for a private CDN as a solution, you have to take into account that it will be a long-term project requiring a large initial investment and involving various partners and a large team of experts. On the other hand, among the advantages of opting for a private CDN as a solution, we can highlight the total control of its delivery and of the users' data, as well as the quick implementation of new functions and services," said Tencer.
Finally, the new hybrid generation makes it possible to mix two or more types of environments and combine public and private content delivery networks, thereby leveraging existing infrastructure and limiting infrastructure investment, while maintaining control over the user.
Streaming video's future
The video industry is at an inflection point. More and more cable and satellite customers are ditching their monthly subscriptions in favor of streaming services like Hulu, Disney+, Netflix, CBS All Access and others. But this trend is not being ignored by traditional providers. Large MSOs like Verizon, Comcast, Charter and others are also embracing OTT, leveraging their investment in IP technologies to deliver content wherever their customers are, on any device. And content owners are also following suit. From Disney to NBCUniversal to AT&T, direct-to-consumer access seems to be the way of the future.
The Streaming Video Alliance (SVA) enables companies across the video ecosystem to work together to solve the critical challenges of delivering high-quality video at scale. The Streaming Video Alliance's mission is to "develop, publish and promote open standards, policies and best practices that solve critical challenges within the streaming video ecosystem and promote easier and faster consumer adoption," concludes Tencer, reporting on the working groups and progress made by Ateme within for standardization of CDN interconnection and testing for the creation of an open caching standarization.
This initiative of the non-profit association UHD Spain consists of meetings of its members with experts from the audiovisual sector and responds to the commitment to promote Ultra High Definition in Spain, at all levels: both for consumers and professionals.
UHD Spain is a non-profit association created on January 26, 2021, to promote Ultra High Definition (UHD) in Spain. There are currently 38 associated companies: ADM, Agile Content, Ametic, Ateme, Atresmedia, Axión, Canal Sur, Canon, CCMA, Cellnex, Cires21, COITT, Dolby, Egatel, Fecotel, Fenitel, Forta, Fraunhofer, Gsertel, Henneo, Hispasat, Hurí, Lavinia, Mediapro, Medina Media, Rohde &. Schwarz, RTVE, Sapec, Secuoya, Synamedia, Tedial, Telecom CLM, Televés, TRedess, UPM, Uteca, Vestel and Video-MOS.
---