UHD SPAIN DISCUSSES THE DTT EVOLUTION TO THE INTERNET TO COMPETE WITH STREAMING PLATFORMS
23/02/2023
---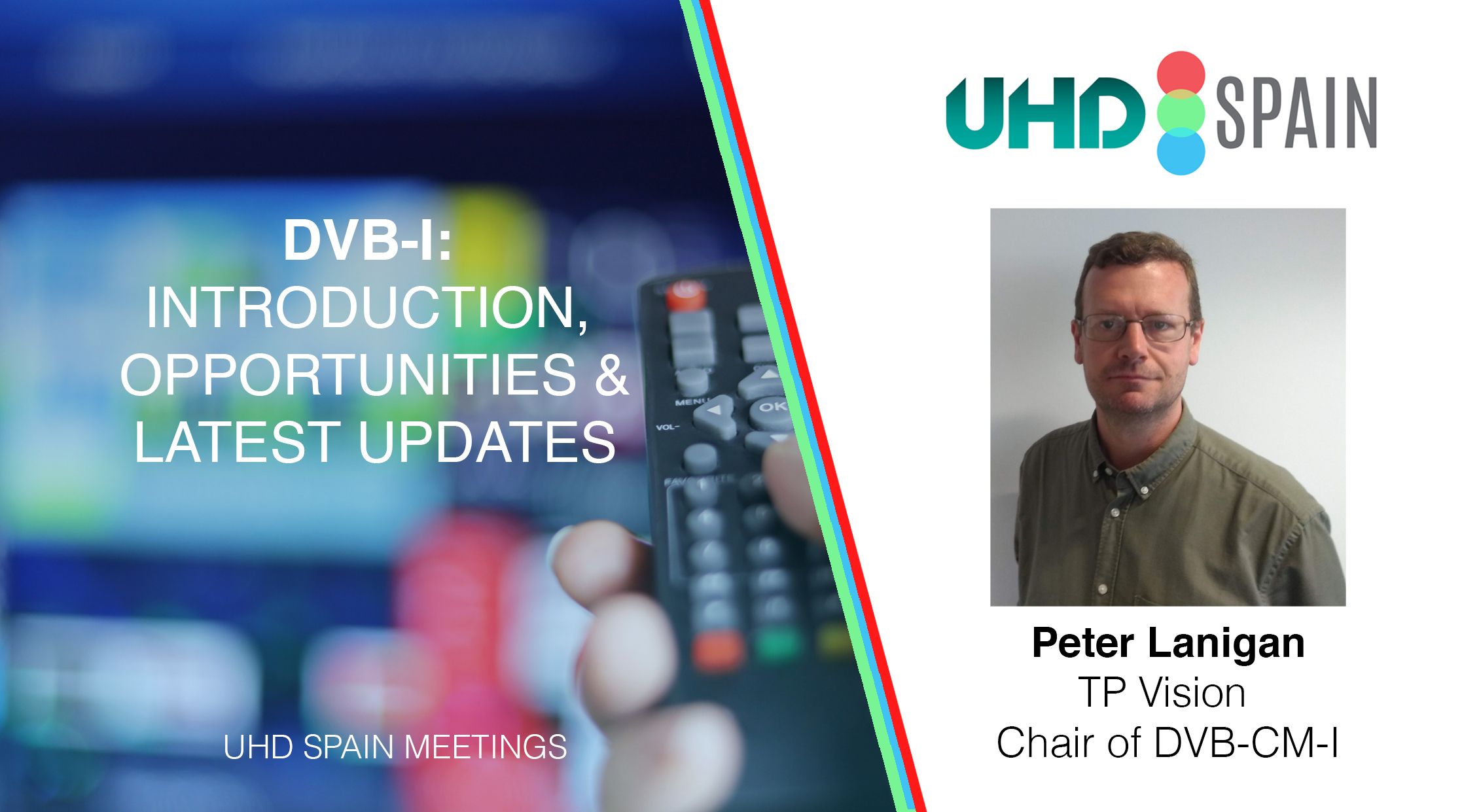 The association has held a professional meeting on DVB-I as a complementary standard to Digital Terrestrial Television that seeks to evolve the user experience.
The advantages and pilot projects of DVB-I, as a standard that complements and extends Digital Terrestrial Television, have been analyzed for the first time in a new meeting hosted by UHD Spain, the association that promotes Ultra High Definition in Spain.
Peter Lanigan, TP Vision / Chair of DVB-CM-I, has been the expert invited to this session under the title "DVB-I: Introduction, Opportunities, and Latest Updates". This virtual meeting was attended by more than 40 professionals and can fully be viewed in the private and free area of the association's website YOUR UHD ZONE.
Mr. Lanigan began the meeting with a brief explanation of the meaning of the abbreviation DVB "Digital Video Broadcasting". This refers to the digital transmission of television, which has been gradually replacing the analog transmission. The advantage of digital television is obvious: only this one provides high resolutions and a variety of possible channels, as analog transmission simply does not have the necessary capacity for this.
Within the world of digital television, the expert spoke of the three common versions, called DVB-T, DVB-S, and DVB-C, which is nothing more than the distinction between the well-known terrestrial, satellite, and cable television. DVB-I makes possible the transition of DTT to the Internet to compete with the quality and interactivity of streaming platforms, unifying in a transparent way for the user the terrestrial broadcasting channels and Internet TV channels.
"The main purpose of this presentation is to explain what DVB-I is and what are the advantages of a technology that enables a hybrid system of DTT and Internet, and also allows TV services to be accessed directly from the network without needing an antenna," says the DVB-I expert.
Currently, there are several proposals to evolve DTT, based on HbbTV technology (also known as hybrid DTT). This is a kind of hybrid in which the user needs to access DTT through antennas, but receives extra services and applications via the Internet connections of Smart TVs. In this case, the disadvantage of needing to connect to the antenna means that when using a laptop or mobile device, an external device is needed to access the channels' websites. And this is one area where the new DVB-I standard becomes strong. With it, broadcasting is now also possible over the Internet, which means that there is no need to connect to an antenna. Therefore, instead of a hybrid system like HbbTV, it would be one totally focused on access through the network. This, as a first benefit, makes it possible for any user to connect easily from any device.
"One of the obvious strengths of DVB-I is that it opens up the door for you to be able to connect to services via the Internet from any type of device. The other big advantage is that DVB-I allows TV channels to offer additional content. For example, they will be able to implement an on-demand playback service to not only watch live TV but also select programs to watch whenever you want. It will also be possible to offer extended information on broadcasts, and, in the case of on-demand TV, it will be possible to continue watching a program on a different device", explains the expert.
"In addition, this standard fully supports 5G networks, allowing users to access services wherever they are and benefit from the high speed and stability offered by 5G," says Mr. Lanigan.
In short, and in Mr. Lanigan's own words, "DVB-I is moving from being a paper specification to an important technology for distributing content in the hybrid world between broadcast and online. Offering broadcasters and service providers many opportunities to expand existing deployments and create new ecosystems. Reaching more users, on more devices."
About UHD Spain
UHD Spain is a non-profit association founded on January 26, 2021, to promote Ultra High Definition (UHD) in Spain, under the slogan: Driving Together the Television of the Future. Currently, there are already 40 associated companies: ADM, Agile Content, Ametic, Ateme, Atresmedia, Axión, Canal Sur, Canon, CCMA, Cellnex, Cires21, COITT, Dolby, Egatel, Fecotel, Fenitel, Forta, Fraunhofer, Gradiant, Gsertel, Henneo, Hispasat, Hurí, Lavinia, Mediapro, Medina Media, Optiva Media, Rohde & Schwarz, RTVE, Sapec, Secuoya, Synamedia, Tedial, Telecom CLM, Televés, TRedess, UPM, Uteca, Vestel and Video-MOS.
Among the founding partners is the Polytechnic University of Madrid, in particular with professors and researchers from the E.T.S. of Telecommunications Engineers who have been working on UHD issues since 2015 through the RTVE Chair at UPM. It should be noted that in Europe only five countries have professional associations on Ultra High Definition: Germany, France, the United Kingdom, Italy, and Spain.
Don't forget that you can access the complete video meeting
under free registration through YOUR UHD ZONE.
---