UHD SPAIN DISCUSSED THE MAIN CHALLENGES OF STREAMING IN ULTRA HIGH DEFINITION
24/03/2022
---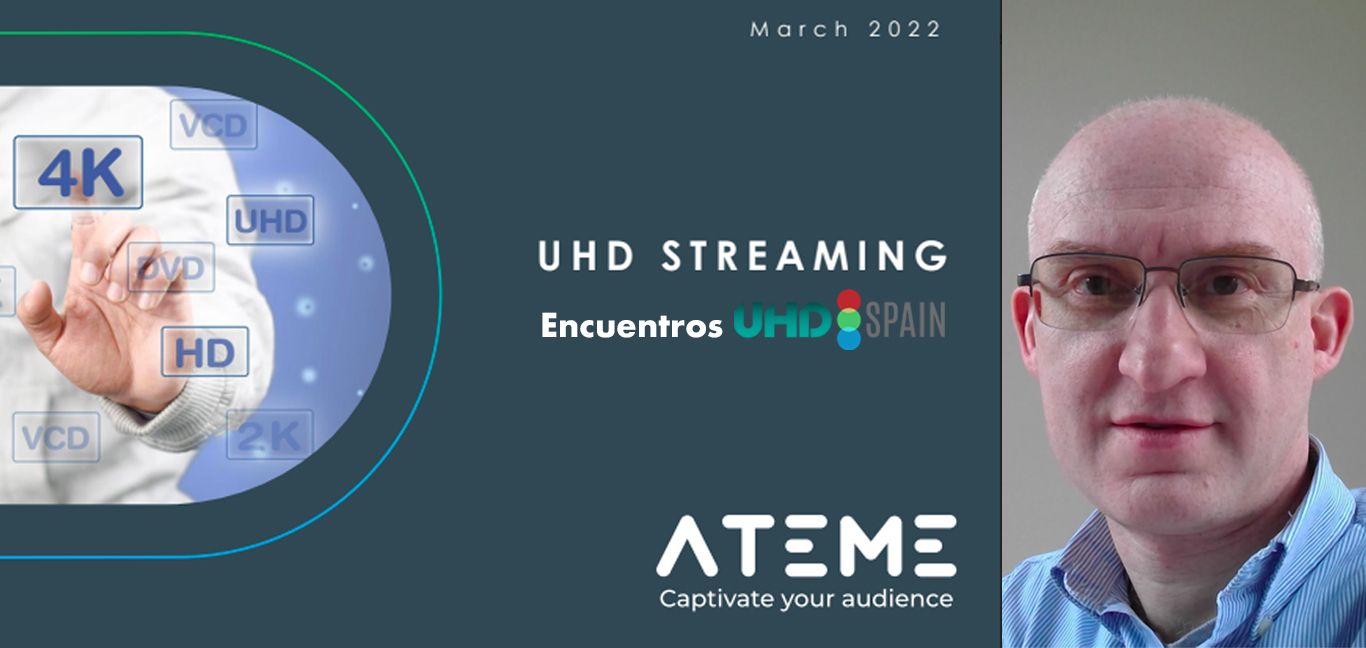 In its fourth virtual meeting, restricted to members of the association, UHD Spain had more than 40 attendees
The meeting, in virtual format, was led by Sassan Pejhan, VP Emerging Technologies of Ateme, and was restricted to members of the association.
In this fourth session of the " UHD Spain Meetings", the workflows for video on demand and linear channels were discussed, as well as the main challenges of this image resolution standard and next-generation audio.
UHD Spain hosted, on the afternoon of Wednesday, March 16, the meeting with the largest attendance to date of the association, organized by the Emission group and led by Sassan Pejhan, VP Emerging Technologies of Ateme. The main objective of the meeting was to share his knowledge as well as the main challenges of this image resolution standard with the rest of the attendees.
More than 40 people gathered virtually at the event, which was restricted to partners and presented in English under the title "Streaming UHD".
Xavier Redón, Product Manager of Cellnex, vice president of UHD Spain, and coordinator of the Broadcast working group, made a brief welcome introduction to the meeting and gave way directly to Sassan Pejhan who, within a compact and complete agenda of one hour, began his masterclass exposing what was his definition of UHD.
"From my point of view, Ultra-High definition, also known as Ultra HD or UHD, is a standard that specifically refers to a picture resolution with more pixels, higher pixel quality, better frame optimization and, the big forgotten one, better sound quality, including immersive, customized and interactive sound." 
During the meeting, Pejhan also presented a historical evolution of the codecs developed for UHD since the mid-80s of the last century, with the H.120, through MPEG, TrueMotion and VP, AV1, VVC, and up to the H.265/High-Efficiency Video Compression (HEVC) codec, one of the great must-haves for a few years to view content in 4K.
"A video compression technology that offers up to 50% higher compression ratios than previous compression standards, although it has not yet been able to solve the problem of a fragmented patent landscape," says Pejhan.
Currently, the codec par excellence is HEVC, but this standard has a root problem that is causing many companies to bet on other alternatives, and it is none other than licensing. "HEVC is divided between several licensing packages, which makes it very difficult for developers and companies to adopt. This is where MPEG-5 and AV-1 come in with their open-source codes," explained Pejhan during his presentation.
The surprising thing about the new MPEG-5 EVC, "is that it offers the same quality as the current HEVC codec, but uses a much lower average bitrate. This brings a much higher benefit when we talk about the bandwidth in transmissions would be reduced when the Internet connection is limited". 
At the moment, AV-1 looks like a strong contender, as it is getting a lot of support from Amazon, Apple, Facebook, Google, Intel, Microsoft, LG, and Netflix. AV-1 includes film grain synthesis, which is a very interesting feature to keep artistic intention while further reducing the required bitrate. Ateme has been working on this subject for a while and has been awarded 5 patents in this area.
Pejhan also talked about the new VVC codec, which makes it possible to reduce the size of the videos to half of what they now occupy in H.265/HEVC.
Following his explanation of the different codecs currently used in UHD and workflows in both video-on-demand and linear channels, Pejhan presented the main challenges facing UHD today, such as higher bit rates, tools to reduce the impact, increased demand for resources, and impact on equipment density and device compatibility. He ended his masterclass with a reflection on where to deploy a UHD streaming platform: in cloud, on-prem, or both.
This initiative of the non-profit association UHD Spain consists of meetings of its members with experts in the audiovisual sector and responds to the commitment to promote Ultra High Definition in Spain, at all levels, for both consumers and professionals. The next meeting organized by UHD Spain will take place Today March 24 and will consist of an NGA Masterclass on the evolution of sound processing in consumer AV products. 
UHD Spain is a non-profit association created on January 26, 2021, to promote Ultra High Definition (UHD) in Spain. There are currently 38 associated companies: ADM, Agile Content, Ametic, Ateme, Atresmedia, Axión, Canal Sur, Canon, CCMA, Cellnex, Cires21, COITT, Dolby, Egatel, Fecotel, Fenitel, Forta, Fraunhofer, Gsertel, Henneo, Hispasat, Hurí, Lavinia, Mediapro, Medina Media, Rohde &. Schwarz, RTVE, Sapec, Secuoya, Synamedia, Tedial, Telecom CLM, Televés, TRedess, UPM, Uteca, Vestel and Video-MOS.
For more information and to become a member of UHD Spain: coordinacion@uhdspain.es
---