UHD SPAIN AT NAB SHOW 2022 IN LAS VEGAS
22/04/2022
---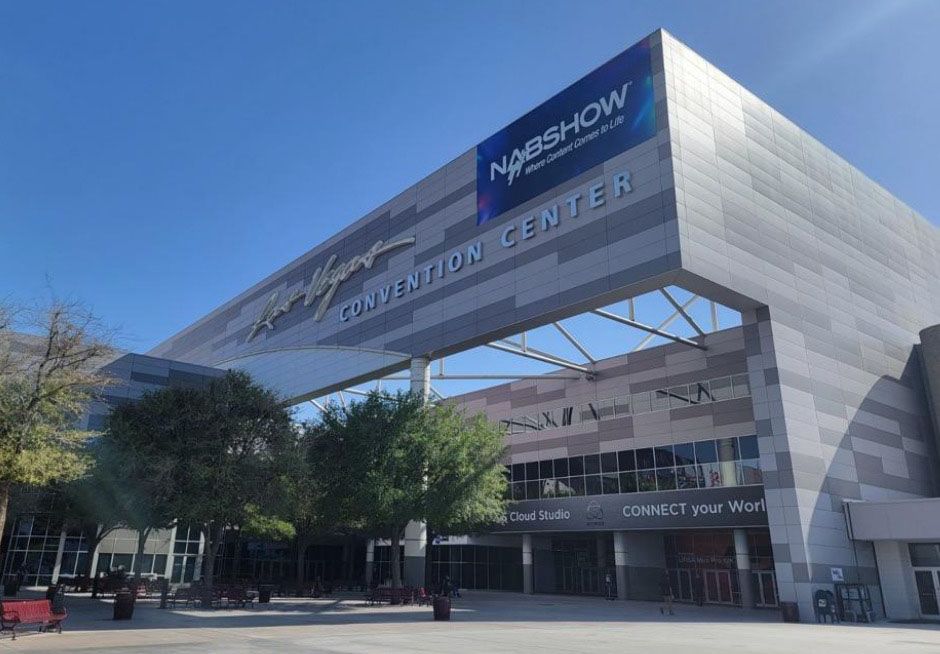 UHD Spain, the association that promotes Ultra High Definition in Spain, continues its expansion plan and international presence with the attendance at the international fair NAB Show 2022, to be held from April 23 to 27 in Las Vegas, Nevada.
Ateme, Canon, Dolby, Egatel, Fraunhofer, Gsertel, Hispasat, Mediapro, Rohde & Schwarz, Synamedia, Tedial, Sapec, Televés and TRedess, UHD SPAIN members, will be attending the world's largest annual conference for broadcast, entertainment and technology professionals, which will host attendees from 154 countries and exhibiting companies from 38 different nations in the newly built West Hall of the Las Vegas Convention Center.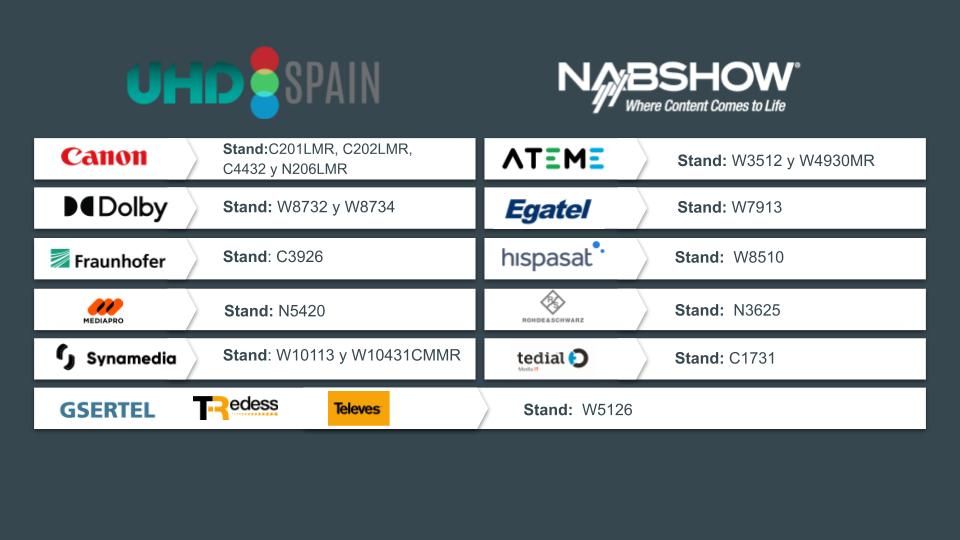 "From the beginning of the foundation of UHD Spain we already had an eye on the international field to collaborate along with the rest of international associations and stakeholders working in the Ultra High Definition environment," says Jorge Rodriguez, member of the Board of Directors and executive of Hispasat, who will be one of the representatives of UHD Spain at NAB Show 2022, who also recognizes that the maxim "driving together the television of the future" is the official mantra of UHD Spain, which "was born with the aim of bringing together the different members of the value chain within the 4K HDR audiovisual industry not only in Spain but worldwide". 
NAB Show covers media, entertainment, and technology and is the ultimate marketplace for those looking to create superior audio and video experiences. This initiative arises from the American association NAB (National Association of Broadcasters) which defends the interests of radio and television strengthening their businesses and taking advantage of new opportunities in the digital age.
In addition, the main international organizations linked to UHD and 4K, will be also present, such as the Ultra HD Forum or the 8K Association, with which members of UHD Spain have arranged meetings to deliver copies of the first edition of the White Book of Ultra High Definition in Spain. 
UHD Spain is a non-profit association created on January 26, 2021, to promote Ultra High Definition (UHD) in Spain. There are currently 38 associated companies: ADM, Agile Content, Ametic, Ateme, Atresmedia, Axión, Canal Sur, Canon, CCMA, Cellnex, Cires21, COITT, Dolby, Egatel, Fecotel, Fenitel, Forta, Fraunhofer, Gsertel, Henneo, Hispasat, Hurí, Lavinia, Mediapro, Medina Media, Rohde &. Schwarz, RTVE, Sapec, Secuoya, Synamedia, Tedial, Telecom CLM, Televés, TRedess, UPM, Uteca, Vestel and Video-MOS.
For more information and to join UHD Spain: coordinacion@uhdspain.com 
---